D-Type :
The D-type watertube boilers represent one of the most popular boiler configurations for watertube boilers and this design is offered by a lot of industrial boiler manufacturers around the world.
The thermoboil D-type models will very in capacities from 10,000Lbr/hr(4.5tons/hr) to 200,000lbs/hr (90tons/hr)with design pressure from 200psig (14bars)to 700psig(48bars). Convective type super heaters are possible with temperatures up to 600F (315C).It is a good design to fire no.6 oil, no.2 oil or gas. Right hand and left hand models are available. For Higher pressures than 700psig (48bars) it is preferable to use an A-type or an O-type boiler.
Typical clients will be pulp and paper industries, petrochemical industries, military bases, large institutional clients etc…This type of boiler is often specified by consulting engineers although it is not symmetrical and well balanced as an A-type or an O-type boiler but it is an old design which has proven itself as being reliable. There are thousands of them in operation around the world mostly for saturated steam and capacities below100, 000lbs/hr (45tons/hr).
The thermoboil D-type boilers can be built using tangent tube waterwalls or membrane type waterwalls.D-type boilers can not be operated at pressure bellow 75psig (5bar) compare to Aquatube boilers and can not be used or are not recommended as hot water heaters. Thermal fluid heating is not possible. Small sizes are very expensive compare to the Thermoboil Aquatube boiler series.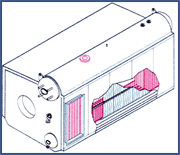 Capacities: From 10,000lbs/hr (4.5 tons/hr) to 200,000 lbs/hr
(91tons/hr) right or left hand models are available.
Pressures: 250psig (17 bars) design up to 750psig (50bars)
Super Heater: Available upon request
Fuels:Oil, gas or combination
-Membrane or tangent tube wall construction to ASME code section I
-Optional water cooled membrane rear wall
-Optional water cooled membrane front wall and burner throat
-Steam purity up to 1ppm

Dtype Watertube Boiler:
Physical Data "D" Type Watertube Boiler:
Boiler
model number
Capacity


tons/hr

-A-
Length


mm

-B-
Width


mm

-C-
Height


mm

-D-
Base width


mm

-E-
-F-
Gas outlet mm
Width
Length

Weights




(In kg)

Dry
Flooded

Fx-10
4.5
3225
3300
3710
2440
305
1675
18000
23000
Fx-12.5
5.5
3500
3300
3710
2440
305
1675
19000
25000
Fx-15
7.0
3730
3300
3710
2440
305
1675
20500
26000
Fx-17.5
8.0
4060
3300
3710
2440
405
1675
22000
29000
Fx-20
9.0
4230
3300
3710
2440
405
1675
23000
30000
Fx-25
11.0
4850
3300
3710
2440
405
1675
26000
34000
Fx-30
13.5
5075
3400
4015
2515
610
2080
27000
35500
Fx-35
16.0
5690
3400
4015
2515
610
2080
30000
39500
Fx-40
18.0
6200
3400
4015
2515
710
2080
33000
43000
Fx-45
20.0
6600
3400
4015
2515
710
2080
34500
45000
Fx-50
22.5
6100
3685
4340
2640
810
2160
36000
50000
Fx-55
25.0
6400
3685
4340
2640
810
2160
37500
52000
Fx-60
27.0
6700
3685
4340
2640
810
2160
39500
54000
Fx-65
29.0
6910
3685
4340
2640
915
2160
41000
56000
Fx-70
32.0
7110
3685
4340
2640
915
2160
42000
58000
Fx-75
34.0
7315
3685
4340
2640
915
2160
43000
59500
Fx-80
36.5
7415
3760
4550
2690
1065
2440
50000
69000
Fx-90
41.0
7950
3760
4550
2690
1220
2440
53000
74000
Fx-100
45.5
8535
3760
4550
2690
1370
2440
57000
79000
Fx-125
57.0
10290
3935
4800
2845
1675
3150
60000
91000
Fx-150
68.0
12040
3935
4800
2845
1830
3150
67000
98000
Fx-175
79.5
13050
3935
4800
2845
1980
3150
72000
104000
Fx-200
91.0
13870
3935
4800
2845
2135
3150
75000
110000
*All dimensions are metric