O-Type :
An O-type watertube boiler represents an alternate way of designing watertube boilers. It is symmetrical, well balanced and very compact compared to D-type boilers and A-type boilers.
Capacities for Thermoboil O-type package units can go as high as 250,000 lbs/hr (115 tons/hr) with pressures up to 1500 psig (103 bar) and temperatures up to 1000F (537 C).It is appropriate where space is limited. It can be field erected if required by site conditions or for size larger than 250,000 lbs/hr (115 tons/hr).
It can fire any fuel but may be less appropriate to fire no.6 oil than an A-type or D-type boiler. Solid fuels like wood wastes cannot be fired in the O-type furnace and if used have to be burned in separate combustion chamber. The boiler then is used as a waste heat recovery boiler.
Superheaters are radiant and convective type and produce quite stable superheated steam temperatures over all firing range .That design can be built with membrane waterwalls or with tangent tubes. Furnace sizes are smaller than a D-type or an A-type and will result in higher heat release rates influencing NOX levels. They are also used as heat recovery steam generators.
O-types are popular as portable boilers and boilers for rents. They are often use for cogeneration, petrochemical industries, industrial processes etc.
It is a well balanced boiler design. O-type boilers are easier to ship by road or by train than D-type boilers because of the fact that their shape will ease the passage through tunnels or bridges and that their center of gravity is on the center of the unit.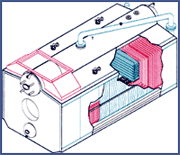 Capacities:From 20,000 lbs/hr (10 tons/hr) to 250,000 lbs/hr (115 tons/hr) with or without superheater
Pressures:250 psig (17 bars) design up to 1500 psig (100 bars)
Superheaters: Temperature up to 950 F (510 C)
Fuels:Oil, gas or combination
-Membrane or tangent tube wall construction to ASME code sectionI
-Optional water cooled membrane rear wall
-Optional water cooled membrane front wall and burner throat
-Steam purity up to 1 ppm


Otype Watertube Boiler:
Physical Data "O" Type Steam Watertube Boiler:
Boiler
model number
Capacity
tons/hr
-A-
Length
mm
-B-
Width
mm
-C-
Height
mm
-D-
Base width
mm

-E-
-F-
Gas outlet mm
Width
Length

Weights




(In kg)

Dry
Flooded

O-1-30
13.5
5485
3100
4190
2135
1375
860
27000
38000
O-1-40
18.0
5995
3100
4190
2135
1375
860
29000
41000
O-1-50
22.5
6500
3100
4190
2135
1525
1000
32000
43000
O-2-60
27.0
7010
3100
4190
2135
1525
1000
34000
45000
O-2-70
32.0
7315
3530
4500
2465
1525
1000
39000
54000
O-2-80
36.5
7820
3530
4500
2465
1525
1000
41000
56000
O-2-90
41.0
8230
3530
4500
2465
1830
1070
43000
61000
O-2-100
45.5
8735
3530
4500
2465
1830
1070
45000
63000
O-3-110
50.0
9270
3760
4570
2690
1830
1220
50000
70000
O-3-125
57.0
9750
3760
4570
2690
2135
1475
52000
72000
O-3-150
68.0
10490
3760
4570
2690
2135
1475
57000
77000
O-4-175
79.5
12015
3860
5000
2820
2135
1675
66000
95000
O-4-200
91.0
12750
3860
5000
2820
2300
1980
70000
100000
O-4-250
113.5
13970
3860
5000
2820
2300
1980
75000
109000
*All dimensions are metric